Amazon
Amazon logo preview
Learn more about Amazon, find out the Amazon brand colors, and download Amazon vector logo in the SVG file format. Find related logos. Looking for a raster logo? Here you can download PNG Amazon logo on a transparent background as well.
Brand information
The Amazon logo features black orange colors
This is a color scheme of Amazon. You can copy each of the logo colors by clicking on a button with the color HEX code above.
Amazon.com, Inc. is an American multinational technology company based in Seattle, Washington, which focuses on e-commerce, cloud computing, digital streaming, and artificial intelligence. It is one of the Big Five companies in the U.S. information technology industry, along with Google, Apple, Microsoft, and Facebook. The company has been referred to as "one of the most influential economic and cultural forces in the world", as well as the world's most valuable brand. Jeff Bezos founded Amazon from his garage in Bellevue, Washington, on July 5, 1994. It started as an online marketplace for books but expanded to sell electronics, software, video games, apparel, furniture, food, toys, and jewelry. In 2015, Amazon surpassed Walmart as the most valuable retailer in the United States by market capitalization. In 2017, Amazon acquired Whole Foods Market for US$13.4 billion, which substantially increased its footprint as a physical retailer.
History of the Amazon Logo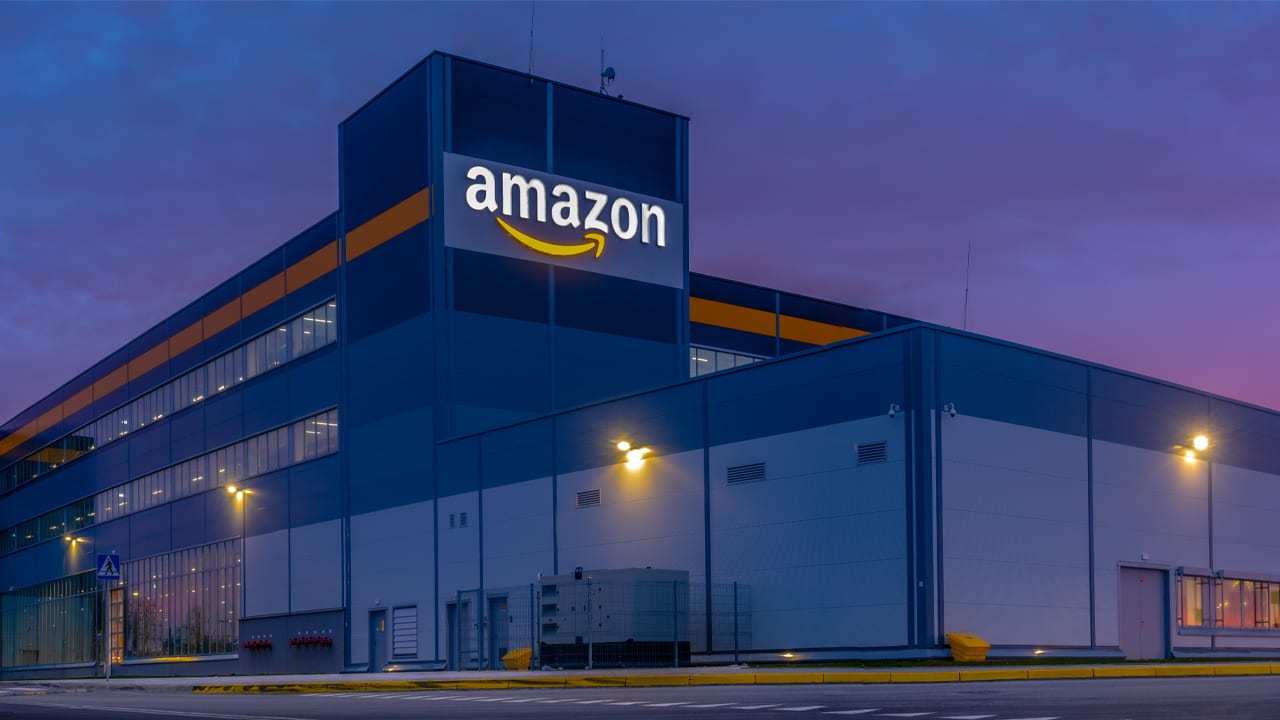 The Amazon logo has had three unique cycles throughout the long term; however, neither of the initial two stayed long. The organization's first logo was Amazon.com explained in dark textual style with a more prominent, yellow text style utilized for the "o." This plan was subsequently supplanted with a logo highlighting the organization name with a close straight yellow line underneath it. On top of Amazon.com, the words "Books, Music and More" were illuminated in light-dark text style. This plan stayed until the year 2000 when Jeff Bezo carried out the organization's logo from that point onward, the renowned Amazon.com with a bent bolt underneath it.
In a moderately brief timeframe, Amazon has been near. They have turned the universe of business over. In 2016, the organization got somewhat more than 135 million dollars and did not indicate easing back down. Something other than a web store, Amazon has become a central thrust behind numerous innovations, including creating robots to convey their bundles and presenting the organization's voice-enacted individual aide, Amazon Alexa. Although the historical backdrop of Amazon might be brief, it's been surprisingly famous too. From its roots as an online book shop to its present situation as the ruler of internet business, we'll take a gander at the historical backdrop of Amazon and the job the organization's logo has played in its prosperity.
Jeff Bezos established Amazon in 1994 under the name "Cadabra." In a demonstration of the significance of insightful marking, however, Bezos would change the title a year later to "Amazon" in the wake of understanding the first name's phonic likeness to the word corpse. At the hour of its establishment, Amazon sold just books. Inside the initial two months of being on the web, however, Amazon was selling books in 45 distinct nations and creating an income of $20,000 every week.
Indeed, even with beginning achievement like this current, Amazon's sluggish development baffled numerous financial backers. The field-tested strategy for Amazon laid out that the organization didn't anticipate being beneficial for four to five years. Instead, it demanded that the entirety of the organization's income be centered around development and extension. In 2000 however, when the website bubble burst and slaughtered off numerous online stores, Amazon was one of the lone imperative players left standing. This drove the organization to turn its first benefit in 2001 of $5 million.
Amazon hasn't thought back from that point forward, developing to be quite possibly the most influential organization on the planet today, which began as an online book shop has since evolved into a monstrous enterprise with a hand in nearly everything. From shopping for food to front-line innovation, Amazon presently gives everything from start to finish. It just fits then that the organization ought to have a logo that passes on this alert message.
Plan Elements of the Amazon Logo
The third and last plan of the Amazon logo several truly inventive components. The first of these is the place where the bolt under the logo starts and stops. Starting at the "A" in "Amazon" and finishing at the "Z," this plan component of the Amazon logo is intended to depict the message that Amazon sells everything from "A" to "Z." At the time Amazon received this new logo, the organization had effectively moved well past its long periods of simply being a book shop and were at that point offering a broad scope of items. Alongside this, the vision of all Amazon would, in the end, be associated with was, without a doubt, effectively inside the psyche of Jeff Bezos when he presented this new logo. By having the bolt in the logo stretch from "A" to "Z," Amazon can pass on to its clients that the organization can address all their issues.
This is the Amazon Prime logo. This Amazon image addresses the individuals who pay a month-to-month expense to get free transportation and quick conveyance. The Amazon Prime logo has the marked bolt with "Prime" after the word Amazon. The Prime logo addresses snappiness, greatness, and the friendly contributing blue tone. As I would like to think, they nailed the Amazon Prime Logo.
The bolt's plan in the Amazon logo fills a twofold need, however, it is likewise made to resemble a grin. When joined with the remainder of the program, the whole logo represents an extremely inconspicuous similarity to a face. The examination has shown that people have mind-blowing facial acknowledgment and have demonstrated that we place a ton of trust in a grinning look. By planning its logo to resemble a grinning face, Amazon can pass on a dependable, agreeable organization.
In conclusion, bolts have for some time been utilized to pass on messages of forwarding progress and speed, the two components of Amazon's plan of action in that they are continually developing and have additionally assembled a foundation of their business (Amazon Prime) around the quickest accessible transportation speeds.
If you've at any point requested a bundle from Amazon, you've seen their logo. Each Amazon bundle accompanies the well-known logo gladly showed across the crate, and Amazon even promotes themselves as "conveying grins to clients' doorsteps." Since bundles from Amazon are regularly so promptly accessible, the containers are commonly reused by clients to transport different things, promoting the Amazon brand. It's quite possibly the best way Amazon utilizes its logo and illustrates the significance that bundling plays in marking.
A decent logo additionally opens the entryway for great mottos, and as of now referenced, Amazon has probably fabricated the best trademark around the plan of their logo. The organization additionally has the grin program, a significant part of the organization that gives cash to a wide range of associations and fills in as another illustration of how Amazon has constructed a section of their marking around their logo's plan.
Of the organizations on the planet today to contemplate, Amazon is without a doubt perhaps the most energizing, and it will be intriguing to perceive what advancements they lead in the coming years. Moreover, as an organization that is still generally new compared to retail monsters, for example, Walmart and Target, Amazon has a lot of room left to keep characterizing its image. It will be intriguing to perceive what transforms they make going ahead and how they will utilize their logo as a piece of their novel marking system.
Design Elements of the Amazon Logo
The third and seemingly final design of the Amazon logo features a couple of really creative elements. The first of these is where the arrow underneath the logo starts and stops. Beginning at the "A" in "Amazon" and ending at the "Z", this design element of the Amazon logo is meant to portray the message that Amazon sells everything from "A" to "Z". At the time Amazon adopted this new logo the company had already moved well past its days of just being a bookstore and were already offering a wide range of products. Along with this, the vision of all Amazon would eventually be involved in was undoubtedly already inside the mind of Jeff Bezos when he introduced this new logo. By having the arrow in the logo stretch from "A" to "Z", Amazon is able to convey to their customers that the company can meet their every need.
The design of the arrow in the Amazon logo actually serves a double purpose, though, in that it is also made to look like a smile. When combined with the rest of the design, the entire logo bares a very subtle resemblance to a face. Research has shown that humans have incredible facial recognition and has also shown that Amazon place a lot of trust in a smiling face. By designing their logo to look like a smiling face, Amazon is able to convey that they are a trustworthy, friendly company.
Lastly, arrows have long been used to convey messages of forward progress and speed, both elements of Amazon's business model in that they are constantly innovating and have also built a cornerstone of their business (Amazon Prime) around the fastest available shipping speeds.
Since the company's inception, it has had four logo versions. The first one featured a translucent "A" on a soothing water background, under which "Amason.com, the Earth's biggest bookstore" was written. The next logo was introduced in 1998. It had a simpler design: "amazon.com" on a white background with a yellow underline, and "books, music & more" above. By the time, the company began to sell music. In 2000, the group did another modification: the list of products was removed, and a yellow arrow pointing from A to Z was added. The company's current logo has been around since 2002.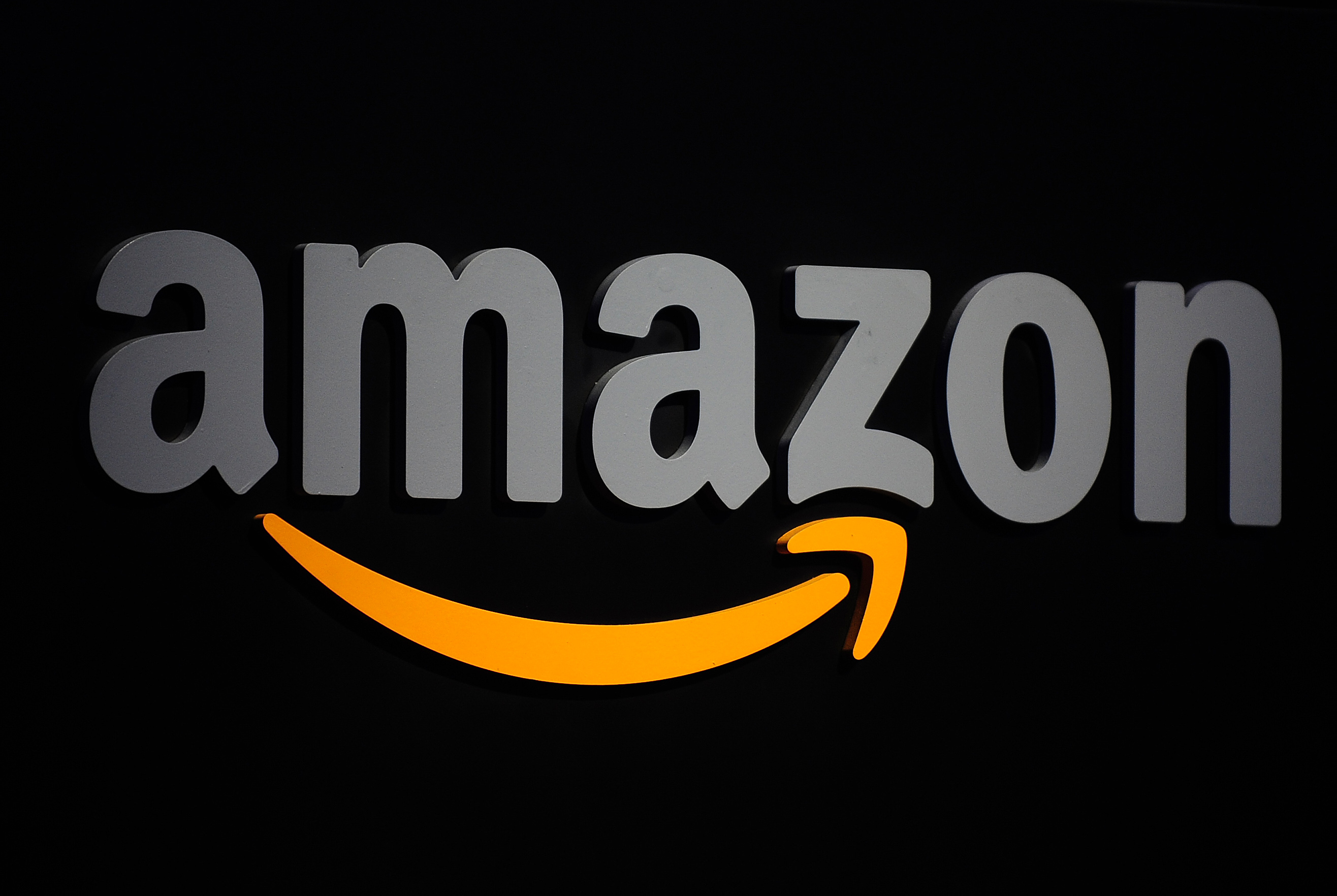 Frequently Asked Questions (FAQ) about the Amazon Logo
The Amazon logo is one of the Amazon logos and is an example of the technology industry logo from United States. According to our data, the Amazon logotype was designed in 2000 by Michael Cronan for the technology industry. You can learn more about the Amazon brand on the amazon.com website.
Most logos are distributed vector-based. There are several vector-based file formats, such as EPS, PDF, and SVG. Simple images such as logos will generally have a smaller file size than their rasterized JPG, PNG, or GIF equivalent. You can read more about Raster vs Vector on the vector-conversions.com.
SVG or Scalable Vector Graphics is an XML-style markup-driven vector graphic rendering engine for the browser. Generally speaking, SVG offers a way to do full resolution graphical elements, no matter what size screen, what zoom level, or what resolution your user's device has.
There are several reasons why SVG is smart to store logo assets on your website or use it for print and paper collateral. Benefits including small file size, vector accuracy, W3C standards, and unlimited image scaling. Another benefit is compatibility — even if the facilities offered by SVG rendering engines may differ, the format is backward and forward compatible. SVG engines will render what they can and ignore the rest.
Having the Amazon logo as an SVG document, you can drop it anywhere, scaling on the fly to whatever size it needs to be without incurring pixelation and loss of detail or taking up too much bandwidth.
Since the Amazon presented as a vector file and SVG isn't a bitmap image, it is easily modified using JavaScript, CSS, and graphic editors. That makes it simple to have a base SVG file and repurpose it in multiple locations on the site with a different treatment. SVG XML code can be created, verified, manipulated, and compressed using various tools from code editors like Microsoft VS Code or Sublime Text to graphic editors such as Figma, Affinity Designer, ADOBE Illustrator, and Sketch.
You can download the Amazon logotype in vector-based SVG (Scalable Vector Graphics) file format on this web page.
According to wikipedia.org: "A logo (an abbreviation of logotype, from Greek: λόγος, romanized: logos, lit. 'word' and Greek: τύπος, romanized: typos, lit. 'imprint') is a graphic mark, emblem, or symbol used to aid and promote public identification and recognition. It may be of an abstract or figurative design or include the text of the name it represents as in a wordmark."
Logos fall into three classifications (which can be combined). Ideographs are abstract forms; pictographs are iconic, representational designs; Logotypes (or Wordmarks) depict the name or company's initials. Because logos are meant to represent companies brands or corporate identities and foster their immediate customer recognition, it is counterproductive to redesign logos frequently.
A logo is the central element of a complex identification system that must be functionally extended to an organization's communications. Therefore, the design of logos and their incorporation into a visual identity system is one of the most challenging and essential graphic design areas.
As a general rule, third parties may not use the Amazon logo without permission given by the logo and (or) trademark owner Amazon. For any questions about the legal use of the logo, please contact the Amazon directly. You can find contact information on the website amazon.com.
We strive to find official logotypes and brand colors, including the Amazon logo, from open sources, such as wikipedia.org, seeklogo.com, brandsoftheworld.com, famouslogos.net, and other websites; however, we cannot guarantee the Amazon logo on this web page is accurate, official or up-to-date. To get the official Amazon logo, please get in touch with the Amazon directly or go to amazon.com.
By downloading the Amazon logo from the Logotyp.us website, you agree that the logo provided "as-is." All the materials appearing on the Logotyp.us website (including company names, logotypes, brand names, brand colors, and website URLs) could include technical, typographical, or photographic errors or typos.
We do not claim any rights to the Amazon logo and provide the logo for informational and non-commercial purposes only. You may not use or register, or otherwise claim ownership in any Amazon trademark, including as or as part of any trademark, service mark, company name, trade name, username, or domain registration. You do not suppose to share a link to this web page as the source of the "official Amazon logo" Thank you.
The color orange is a warm, vibrant color that is often associated with energy, cheerfulness, and happiness. It is a combination of red and yellow, and is often seen as a cheerful, energetic color. In design, orange is often used to add a pop of color to a space and can be used to create a warm, welcoming atmosphere. In fashion, orange is often used to add a touch of fun and playfulness to an outfit. The color orange is also often associated with autumn, as it is often seen in the leaves of deciduous trees during the fall season. The color black is a neutral color that is often associated with sophistication, elegance, and power. It is a strong, bold color that is often used to create a dramatic visual impact. In design, black is often used to create a sleek, modern look, and it is also often used to represent sophistication and luxury. In fashion, black is often used to create a sleek, classic look, and it is also often associated with formality and evening wear. The color black is also often associated with mystery, darkness, and the unknown.
It's important to note that these associations are not universal, and different people may have different emotional responses to colors.