Opera Mini
Logo
Opera Mini Logo Preview
Brand Information
The Opera Mini logo contains red black green colors
This is a color scheme of Opera Mini. You can copy each of the logo colors by clicking on a button with the color HEX code above.
Additional Opera Software AG Logos
Opera Mini is a mobile web browser developed by Opera Software AS. It was primarily designed for the Java ME platform, as a low-end sibling for Opera Mobile, but it is now developed exclusively for Android and iOS. It was previously developed for Windows 10 Mobile, Windows Phone 8.1, BlackBerry, Symbian, and Bada.
Opera Mini Browser History
On 16 August 2009, Opera Software released Opera Mini 5.0 beta, which included tabbed browsing, a password manager, improved touch screen support, and a new interface, with a visual Speed Dial similar to the one introduced by Opera Software in their desktop browser. The browsers use of compression and encrypted proxy-based technology to reduce traffic and speed page display has the side effect of allowing it to circumvent several approaches to Internet censorship. Since 20 November 2009, there have been reports from Chinese users that when they use Opera Mini, they are redirected to an error page leading them to download Opera Mini China version. This is almost certainly due to the Chinese government being concerned that users are using Opera Mini to bypass the Great Firewall of China. Opera agreed to route all of their traffic through government servers. In 2009–10: A press release announcing that Indonesias Smart Telecom had chosen Opera Mini for their devices said that Opera Mini was the worlds most popular mobile browser, and that Russia and Indonesia were the largest users. An iPhone version was approved for distribution by the Apple App Store on 13 April 2010.
On 3 September 2014, Opera started taking registrations for the beta version of Opera Mini for Windows Phone. Opera Mini was released for Windows Phone six days later, on 9 September 2014, as a public beta. This marked Operas return to Microsofts mobile platform since the demise of Windows Mobile.
Opera Mini Features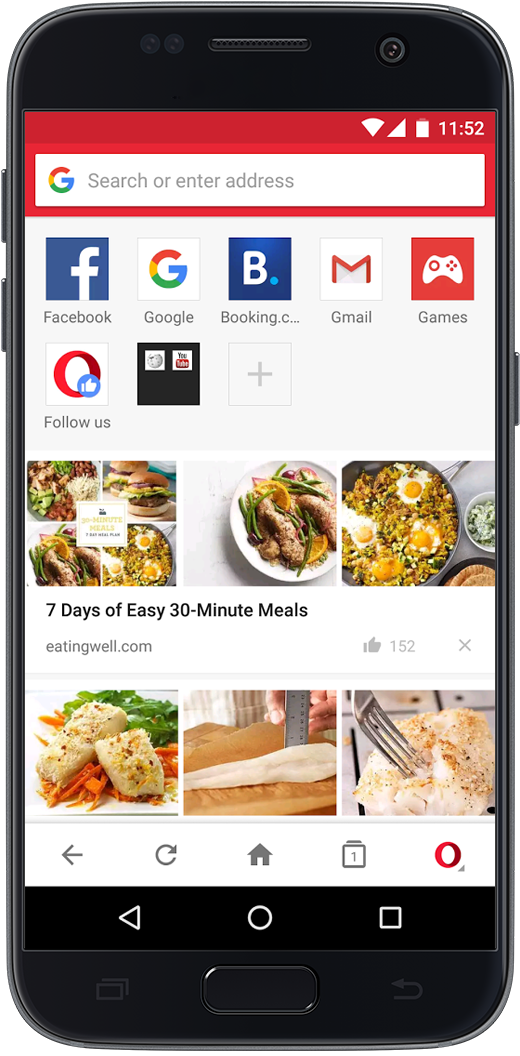 Opera Mini has an ad blocker built right into the browser, so you can read whole articles on your Android device without seeing a single ad. Opera Mini all know those instant diplomas look totally fake anyway, right?
Opera Mini is all about speed. It not only blocks browser ads on your Android device, but Opera Mini compresses content before it reaches you, so you get your content fast, no matter how heavy, even on a really slow connection.
Automatically scan sites for downloadable video and music files. The video download feature in Opera Mini is the best way to save your favorite clips from social networks and other sites to your device. Quick and easy with a couple of taps!
With this handy notification bar, that lives in the notification drawer, you can stay in touch and up-to-date with whats happening on Facebook.
Thanks to Opera Mini's compression technology, you get the full online experience. You can see all the memes, cat pictures and comment flame wars the web has to offer – in their full glory – without losing speed or eating into your data allowance.
Substantial data savings and a new way of tracking how much data you've saved will help you extend your data plan. And, for those looking for even more data savings, Opera Mini also provides an extreme savings mode.
Opera Mini's smart night mode makes reading when you should be sleeping more comfortable. But, it's your fault if you're late for work tomorrow.
So, you didn't get to finish reading that blog about Game of Thrones on the train and now your phone battery is dead. Luckily, you synced your computer and phone with your Opera account, and now you can pick up right where you left off, as well as access your favorite Speed Dial shortcuts, bookmarks and open tabs.
It's like one of those leather satchels with all the handy pockets. The Opera Mini start page keeps all your favorite sites and new discoveries in one place. Just choose the categories you're interested in, and Opera Mini will serve you the top stories and freshest content from across the web.
Psychology of colors in the Opera Mini logo:
Red is excitement, energy, passion, courage, attention, lust, power, love, speed, and anger. Black is power, control, authority, discipline, discretion, secrecy, ellegance, and mistery. Green is safety, harmony, stability, reliability, and balance.