Columbus Blue Jackets
Columbus Blue Jackets logo preview
Learn more about Columbus Blue Jackets, find out the Columbus Blue Jackets brand colors, and download Columbus Blue Jackets vector logo in the SVG file format. Find related logos. Looking for a raster logo? Here you can download PNG Columbus Blue Jackets logo on a transparent background as well.
Brand information
The Columbus Blue Jackets logo features blue red silver colors
This is a color scheme of Columbus Blue Jackets. You can copy each of the logo colors by clicking on a button with the color HEX code above.
The Columbus Blue Jackets are a professional ice hockey team based in Columbus, Ohio. They are members of the Metropolitan Division of the Eastern Conference of the National Hockey League (NHL).
The province of Ohio (especially the northern part close by Detroit) has consistently been inclined toward hockey. The NHL authorities didn't show a craving to set up any establishment here for reasons unknown. The Cleveland Barons migrated from California during the 1970s, were converged with the Minnesota North Stars after only two seasons. In the last part of the 1990s, Cleveland was not the most renowned games city. However, the baseball club contended in Major League Baseball. The ball group had sequential losing seasons with no season finisher activity; another football crew was simply intended to supplant the one that disappeared to Baltimore. Under these conditions, the Ohioans set up a hockey group in quickly developing Columbus, the state capital city. Around then, it was a home city for the Crew, an expert soccer club. It didn't imply that hockey would have no contest, the town was abstractly fixated on school football, yet it would not be just about as wild as Cleveland.
The National Hockey League Commissioner Gary Bettman supported the bid, as he attempted to keep keen on hockey alive in Ohio. Yet, the city specialists would not like to dispense public cash for sports offices. It was chosen to hold a mandate, which showed that Columbus' occupants didn't wish the openly financed field. Columbus' expectations for the NHL's offered darkened. Unexpectedly, the protection and monetary help organization Nationwide declared that it would pay for building the $150-million field.
The Columbus Blue Jackets played their first NHL standard season in 2000. The name-the-group challenge showed that more than 14,000 fans support the Columbus Blue Jackets variation. The group is named after the Union fighters' uniform during the Civil War, 1861-1865. Ohio is amazingly glad for its vital job in giving soldiers, military officials, and supplies toward the North Army. It raised a larger number of troopers than some other state. A few driving officers were from Ohio, including Ulysses Grant (future US president), William Sherman, James Garfield (future US president), and George Custer. At long last, the Union's dim blue regalia were sewn precisely in Columbus. The name came out twice as significant. Also, Blue Jacket was the Shawnee Indian boss known for his assailant guard of the clan's properties in Ohio in the late eighteenth – mid nineteenth hundreds of years.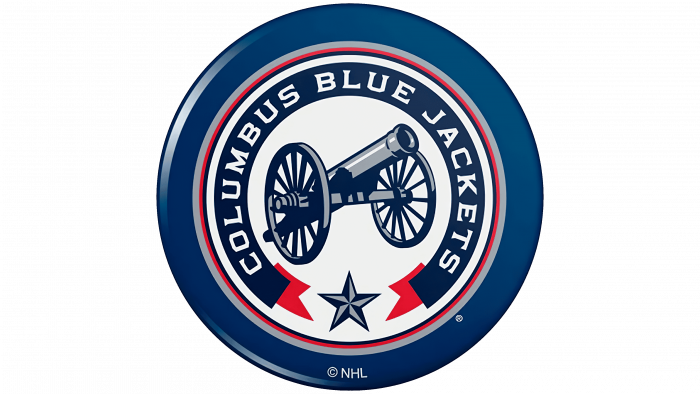 Thus, presently it is clear where the Blue Jackets' name came from. Coincidentally, the famous cannon terminated at home games at whatever point the Blue Jackets score an objective is respect to Ohio's set of experiences. The authority mascot of the Columbus Blue Jackets is Stinger, a dazzling green bug with red eyes.
The shading plan contains blue, red, and white shades of Ohio and USA banners. Be that as it may, the group's logo somewhat let the fans down with its neon green stick. As a rule, it was not appealing. The underlying logo had a red strip with stars spread out like "CB" letters with a hockey stick slicing through the middle to address the "J." An extra silver star delegated the post addressed Columbus' status as the state capital. The logo much took after the Christmas tree.
In 2003, the Blue Jackets got a new, substitute, dim blue shading pullover with two new logos.
On Nov. 11, 1997, group authorities reported the group's name would be the Blue Jackets, commending nationalism, pride, and the rich Civil War history in the province of Ohio and, all the more explicitly, the city of Columbus. The Blue Jackets name was chosen because it recognizes Ohio's commitments to American history and the incredible pride and positive energy displayed by its residents, particularly during the Civil War as both the territory of Ohio and the city of Columbus were altogether persuasive on the Union Army. Ohio offered a more significant amount of its populace to the Union Army than some other states. At the same time, large numbers of the Blue Coats worn by the Union fighters were fabricated in Columbus.
2000 - 2003
The first logo had a red strip with 13 stars addressing the 13 Colonies, spread out looking like the group's initials, CBJ, with an electric gold hockey stick slicing through the middle to address the "J." An extra star on the post addressed Columbus' status as the state capital. A wordmark "BLUE JACKETS" in white with red trim and "COLUMBUS" in silver above.
2004 - 2007
The first logo had a red lace with 13 stars addressing the 13 Colonies, spread out looking like the group's initials, CBJ, with an electric gold hockey stick slicing through the middle to address the "J." An extra star on the post addressed Columbus' status as the state capital.
2008 - Present
The red, white, and blue banner is folding over the white and silver star behind the scenes is the Ohio state banner, which fits the leading NHL group situated in the state. What's more, how the flag swooshes around the star make an inconspicuous "C" in the logo to represent Columbus.
Frequently Asked Questions (FAQ) about the Columbus Blue Jackets Logo
The Columbus Blue Jackets logo is one of the NHL logos and is an example of the sports industry logo from United States. According to our data, the Columbus Blue Jackets logotype was designed for the sports industry. You can learn more about the Columbus Blue Jackets brand on the nhl.com/bluejackets website.
Most logos are distributed vector-based. There are several vector-based file formats, such as EPS, PDF, and SVG. Simple images such as logos will generally have a smaller file size than their rasterized JPG, PNG, or GIF equivalent. You can read more about Raster vs Vector on the vector-conversions.com.
SVG or Scalable Vector Graphics is an XML-style markup-driven vector graphic rendering engine for the browser. Generally speaking, SVG offers a way to do full resolution graphical elements, no matter what size screen, what zoom level, or what resolution your user's device has.
There are several reasons why SVG is smart to store logo assets on your website or use it for print and paper collateral. Benefits including small file size, vector accuracy, W3C standards, and unlimited image scaling. Another benefit is compatibility — even if the facilities offered by SVG rendering engines may differ, the format is backward and forward compatible. SVG engines will render what they can and ignore the rest.
Having the Columbus Blue Jackets logo as an SVG document, you can drop it anywhere, scaling on the fly to whatever size it needs to be without incurring pixelation and loss of detail or taking up too much bandwidth.
Since the Columbus Blue Jackets presented as a vector file and SVG isn't a bitmap image, it is easily modified using JavaScript, CSS, and graphic editors. That makes it simple to have a base SVG file and repurpose it in multiple locations on the site with a different treatment. SVG XML code can be created, verified, manipulated, and compressed using various tools from code editors like Microsoft VS Code or Sublime Text to graphic editors such as Figma, Affinity Designer, ADOBE Illustrator, and Sketch.
You can download the Columbus Blue Jackets logotype in vector-based SVG (Scalable Vector Graphics) file format on this web page.
According to wikipedia.org: "A logo (an abbreviation of logotype, from Greek: λόγος, romanized: logos, lit. 'word' and Greek: τύπος, romanized: typos, lit. 'imprint') is a graphic mark, emblem, or symbol used to aid and promote public identification and recognition. It may be of an abstract or figurative design or include the text of the name it represents as in a wordmark."
Logos fall into three classifications (which can be combined). Ideographs are abstract forms; pictographs are iconic, representational designs; Logotypes (or Wordmarks) depict the name or company's initials. Because logos are meant to represent companies brands or corporate identities and foster their immediate customer recognition, it is counterproductive to redesign logos frequently.
A logo is the central element of a complex identification system that must be functionally extended to an organization's communications. Therefore, the design of logos and their incorporation into a visual identity system is one of the most challenging and essential graphic design areas.
As a general rule, third parties may not use the Columbus Blue Jackets logo without permission given by the logo and (or) trademark owner NHL. For any questions about the legal use of the logo, please contact the NHL directly. You can find contact information on the website nhl.com/bluejackets.
We strive to find official logotypes and brand colors, including the Columbus Blue Jackets logo, from open sources, such as wikipedia.org, seeklogo.com, brandsoftheworld.com, famouslogos.net, and other websites; however, we cannot guarantee the Columbus Blue Jackets logo on this web page is accurate, official or up-to-date. To get the official Columbus Blue Jackets logo, please get in touch with the NHL directly or go to nhl.com/bluejackets.
By downloading the Columbus Blue Jackets logo from the Logotyp.us website, you agree that the logo provided "as-is." All the materials appearing on the Logotyp.us website (including company names, logotypes, brand names, brand colors, and website URLs) could include technical, typographical, or photographic errors or typos.
We do not claim any rights to the Columbus Blue Jackets logo and provide the logo for informational and non-commercial purposes only. You may not use or register, or otherwise claim ownership in any Columbus Blue Jackets trademark, including as or as part of any trademark, service mark, company name, trade name, username, or domain registration. You do not suppose to share a link to this web page as the source of the "official Columbus Blue Jackets logo" Thank you.
The color silver is a cool, pale grey color with a metallic finish. It is often described as sleek, sophisticated, and modern. In a light setting, silver appears shiny and reflective, while in a darker setting, it can appear more matte and subdued. The color is often associated with elegance, wealth, and sophistication. It is also often used to represent technology and industry. In fashion and design, silver is often paired with black or white for a sleek, modern look, and it is also used to accentuate other colors. The color red is a warm, vibrant color that is often associated with strong emotions such as passion, love, and anger. It is also often associated with power, strength, and determination. In design, red can be used to create a bold, attention-grabbing visual impact. It is also often used to represent danger or warning, as it is the color of stop signs and warning lights. In fashion, red is often used to add a pop of color to an outfit and can be used to make a statement or stand out in a crowd. The color red is also associated with love and romance, and is often used in Valentine's Day and Christmas decorations. Blue is a color that is often described as cool, calming, and serene. It is typically associated with the sky and the ocean, and is often used to evoke feelings of tranquility and peacefulness. In terms of its visual appearance, blue is a primary color that is located on the opposite end of the spectrum from red. It is often described as a cool color, as it tends to recede and appear farther away than warm colors such as red, orange, and yellow. Blue is also often described as a soothing and relaxing color, and is often used in hospitals and other healthcare settings to promote a sense of calm and well-being. Blue is a popular color that is often used in fashion, design, and marketing. It is often paired with other colors to create a range of effects, and can be used to create a sense of contrast or to create a cohesive look. Blue is also a popular color for logos, branding, and other visual identity elements, as it is often associated with trustworthiness, reliability, and intelligence.
It's important to note that these associations are not universal, and different people may have different emotional responses to colors.